Ido Homeowner Rep is your concierge service that provides innovative solutions for you, the homeowner. We connect PREMIER customers to SUPERIOR contractors. By eliminating the problems a homeowner faces when hiring a contractor, ido will be the industry standard as a tool and resource for the homeowner. We have created and developed a user-friendly platform that engages and informs, providing you a stress-free solution to get your projects & repairs completed.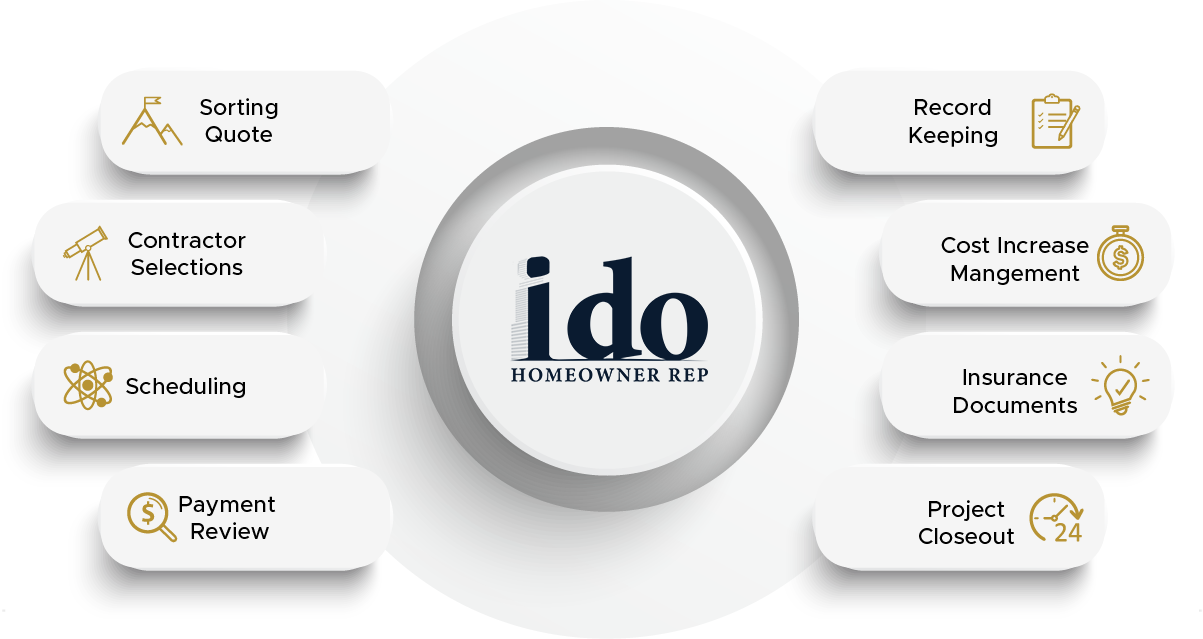 Managing the bid process is a momentous step in the timely of any project. The success or failure of a project can often rest upon contractor selection and ensuring the entire scope of work is covered. In addition, As the bid process is much more dynamic than just taking the low bid, utilizing our services from this stage is encouraged.
Selecting the right contractor is essential to the success of your project. IDo Homeowner Rep will assist in selecting pre-qualifying superior contractors for you through IDo Contractor Network. Spending the last decade working with hundreds of contractors of all trades has given us the knowledge and expertise you need in selecting the best contractor for your project.
We work with contractor to assure that the project will be met your timeline. Time is money and anything that impacts the schedule needs to be clearly identified and justified. Part of our services we direct the contractor to immediately notify us schedules when the project is impacted by unforeseen conditions.
It is important to ensure that contractor are living up to the expectations set before its start. We diligently monitor and enforce contractual requirements. Ensuring total invested capital is equal to the value of the project is a fundamental expectation.
Only paying for goods you have received. On your Behalf, we will assist you review work that has been completed, seems like a basic concept in construction. However, often payment requested is not equal to the current equity of the project. Maintaining the balance between completed work and capital dispersed is integral in the financial health of your project,
Insurance coverage is an aspect can get really complicate. Making sure everyone is carrying the proper insurance coverage will drastically reduce your exposure. We will have a designated person responsible for maintaining all the policies from every contractor in Ido Contractor Network (ICN). We will also ensure policies are renewed and new documents are provided
Ultimately, Most of the time projects will cost increase. A change order (cost increase requested) is when a contract must perform work at an extra cost on the project which was not expected. Ido Homeowner Rep will ensure no change order work is approved or paid until the contractor has gone through the proper channels.
On-site Safety Inspections
Your safety is our Priority. Part of our services is continually evaluate the contractor's safety practices and look for any potentially hazardous situations. Any hazardous situation will be documented and reported to the contractor and Homeowner. Safety practices start now, even before construction.
Closing out a construction project is a daunting task. Operation and Maintenance Manuals (O & M's) must be collected, punch lists finalized, and contracts must be closed out. Ido Homeowner Rep can guide you every step of the way through this process. We collect and review O & M's and closely monitor the punch list operation. Equally as important, we perform contract close-out functions,